Daydreaming, Aretha Franklin
"He's the kind of guy that would say 
Hey, baby let's get away
 Let's go some place, huh
 Where I don't care
 He's the kind of guy that you give your everything
 You trust your heart, share all of your love 
Till death do you part"  
I don't sleep very much.  And by not much, I mean about 3-4 hours per night.  From time to time, I take the advice of my therapist and let prescription medication help so that I can give my body, my mind and my soul 8 hours of uninterrupted rest.  While most people are comfy and cozy in their beds, I'm sitting in my bedroom thinking.  Just thinking. And writing. And sometimes crying.  Less crying that I wrote about here, If You Think You're Lonely Now, but there are still some nights that are worse than others.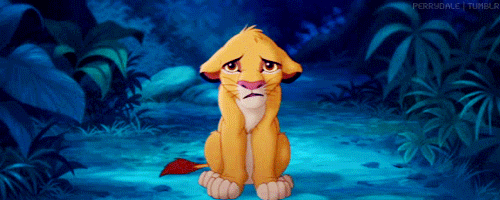 I dream a lot and often I am able to remember the whole thing, quirks and all.  I also daydream a lot, mostly when I'm driving or at work.  Both my day dreams and my night dreams are usually pretty random and don't often involve loved ones.  Back in early February, I took a rare midday nap for about an hour and the song above by Aretha Franklin was playing as I drifted.  I awoke with vivid memories of the dream I'd just had.  I grabbed my journal and wrote with frenzy for a few minutes because I didn't want to forget one single detail.  The dream didn't scare me, but it did set me on edge.  The dream was much more like a movie.  Forgive me in advance for mixing verb tenses.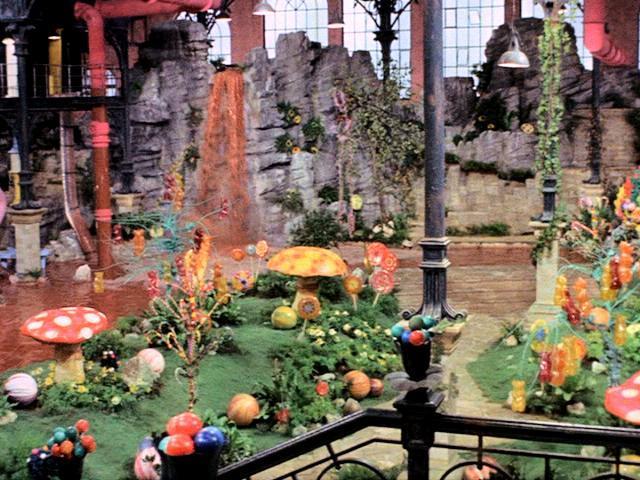 LittleTDJ and I were at a playground that looked very much like the set from Willy Wonka and the Chocolate Factory.  And yes, that's one of my top 10 favorite movies, I own it on DVD, and yes, I used to make MrTDJ watch it with me at least once per holiday season. And I'm talking about the original, real version with Gene Wilder, not the Johnny Depp knock-off.  So anyway, I was spinning LittleTDJ on a colorful merry go round while he giggled with excitement and joy.  The music playing did not exactly match the scene, except it was also from one of my favorite movies, Leaving Las Vegas.  Do y'all know the song, "My One and Only Love" by John Coltrane?  Sting performs it for the movie soundtrack.  Hauntingly beautiful song.
Ok, so back to the scene – LittleTDJ and I both had on bathing suits yet there were huge rainbow colored snowflakes falling from the sky and melting before they hit the ground.  So many strange things that did not match were in this dream, yet it still seemed real. Seemingly from thin air, my husband materialized.  I was surprised but not shocked or frightened.  MrTDJ was so handsome and full of life as he approached us.  LittleTDJ was the first to react and he ran full speed to launch himself into his dad's arms.  The little dude is chatting a mile a minute which is kind of nice because when his dad passed away, he was non-verbal.  After hugging LittleTDJ, MrTDJ leans in and gives me a kiss that takes my breath away.  Our son is headed out of our line of vision and for some reason, I wasn't worried.  Come on, we were in Wonkaland – nothing bad could happen in Wonkaland.
MrTDJ took my hand in his and gazed into my eyes, calling me "Big Head".  Ha!  Were you expecting something more romantic?  Big Head was one of his many teasing nicknames for me and it was amazing to hear him say it again. We had a short but intense dialogue that flowed like this.
Him: Hey Big Head, you've been having a hard time lately. And kinda getting harder.
I nodded but didn't reply.
Him: I'm so proud of you. But you've got to laugh more.
I shook my head. "I need you to make me laugh.  I need you here. We need you here."
He kissed the back of my left hand. "You know I can't Big head. You've gotta hold it down without me."
I just nod again while letting the tears run down my cheeks and pool at my chin.  
Him: It's time.
I pull my hand from his suddenly. "Time for what?"
He takes it again. "Time to take these off." He tapped the engagement and wedding rings that live on my left hand.
I try to pull my hand from his again, but he won't release it. "No, not until I'm ready."
He laughs softly but I'm not upset by it. "When will you be ready Big Head?"
"I don't know. I'll know when I know."  Yeah, it didn't make any sense the first time I read it either.
He chuckles lightly while rubbing my hands between his.  After before resting his forehead against mine, he whispers gently, "You're ready but you think it means something it doesn't.  You need to hear me say it, so here I am.  It's ok to take them off."
I keep trying to pull my hand from his but he was always much stronger than me. My tears keep flowing and he sings the first line from the song, "The very thought of you, makes my heart sing."  We rock back and forth, not so much dancing as swaying together.  The pressure from his forehead eases as he moves his body from mine.  He softly kisses my cheek and disappears in the same soft way in which he had arrived.  Not in a poof of smoke like a ghost, but he just seemed to walk and fade.  LittleTDJ appeared and grabbed my hand, while saying, "Got it Mama? Got it?" I stare at him, confused by his statement. The snow turned to rain but we weren't getting wet.
Then all of a sudden I woke up.
In the almost two years since my husband's death, I've never dreamed of him. Not ever. I think of him all the time. All the time. As in dozens of times per day. I envision moments from our life together, both the amazing and the not so great. The day he died still plays like a movie in my head at least once per day. I've dreamed of many, many people and things but not a single one had included my husband.
I do believe that dreams can be considered manifestations of our soul, our hearts, our wishes, our intuition or our desires.  I believe much of the wisdom that has been passed down to me through my elders – dreaming of fish means that someone is pregnant, dreaming of birds means that death is near, etc.  I can't say with any certainty that my husband visited me to convey a message. What I know is that I've been twirling and twisting my rings in a different way in the weeks preceding this dream.
Immediately following his death and in the months following, my rings were a source of comfort and they made me feel closer to him.  I took offense to those that questioned me openly or silently regarding my rings and the length of time that I might continue to wear them.  As time has moved forward, the rings have started to bring me small doses of pain.  They've become heavy and burdensome at times.  In the span of minutes, they can warm my heart with a special memory of picking out bands together before turning my stomach at the thought that they simply don't belong on my finger anymore.  I have zero interest in the opinions of others, especially as it seems my choices are usually frowned upon in the few online "widow/widower" communities that I peek into from time to time.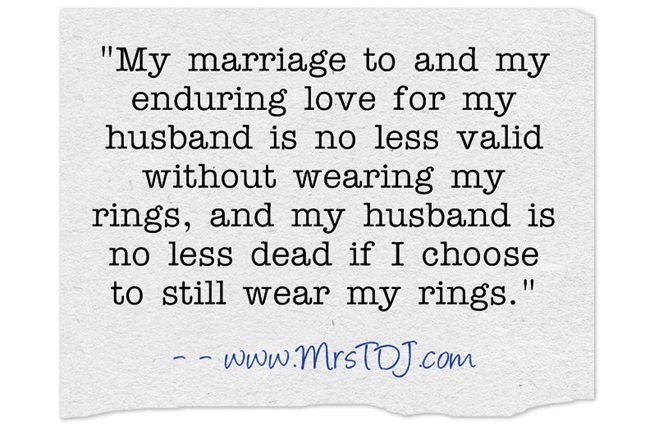 Because I'm a woman and a widow, I have to right to change my mind…often.  Five weeks ago I had my beautiful rings professionally cleaned.  And then I placed them in a blue satin jewelry pouch, and deposited them in the bottom drawer of my jewelry box.  Who knows how long they will remain there.  Perhaps I'll feel the need to wear them one day in the near future or one day 7 months from now.  Or maybe they will remain there until LittleTDJ meets a great girl, falls in love and I can share those beautiful, sacred tokens that his father gave to me.