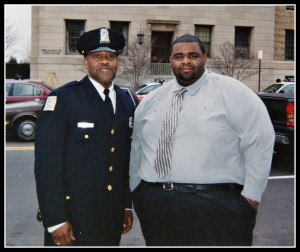 I've been unable to write for several weeks. As the frequency of my sad days and migraines increase, I must acknowledge today as one heck of a "Throwback Thursday." Today, September 4, 2014 marks what would have been my 10th wedding anniversary.  Wow.  I wrote THIS on my anniversary in 2012 and THIS on my anniversary in 2013.  Today also marks 2 months since my hubby left this earth. Oh, and did I mention that my son started kindergarten last week?
The world is swirling around me and I'm struggling to not fly off the edge. My Daddy and my husband have given me 20 years of memories together, but few photos.  The one above is one of my favorites, the day my Daddy graduated from the police academy.  The grief that I feel upon losing each of them is very deep and very different.  In the months preceding my dad's terminal illness and death, I believe that I was actually coming to a place where my good days outnumbered my bad.  That's not so true anymore.  I've found a way to get up and go through the motions (sometimes), but things are heavy and dark.  I remain eternally grateful for my family and friends.  There's no telling where I'd be without them.  And even as those closest to my dad face their own grief on his recent passing, they undoubtedly worry about and check on me consistently.
Writing normally brings me comfort, but I've been unable to do so until about two days ago.  The words ran from my fingers to the keyboard and I felt a release of sorts.  Part of me has been afraid to  let the words flow. This morning I felt the pull to put something on the blog.
My Daddy and my husband are linked in a different way now.  My two guys are gone.  And as I grieve the death of my father, I am pulled back into the early stages of grieving my husband. If only we could learn and follow in the footsteps of amazing children like my son.